Here at Mosano, we're committed to providing the best web and mobile app development services to our clients. We're a team of experienced certified professionals. Since 2016, we have been committed to building relationships and providing benefits to businesses of all sizes across Portugal and the globe.
We want to especially praise small businesses today. Small businesses are the backbone of the Portuguese economy — with more than 24,400 new Portuguese companies starting every six months! As Portugal has a strong and educated workforce, business incentives, and European-level initiatives, Portugal is consistently ranked as one of the best states for small businesses to operate in.
We are partnering with The Manifest to recognize businesses during this uncertain time! If you are looking to support your favorite business during the COVID-19 pandemic, one of the best things you can do is to leave a rating and review on your business's ratings and reviews platform of choice. If you are reviewing your favorite restaurant, use TripAdvisor. If you're reviewing your favorite B2B service provider, use The Manifest!
The Manifest is the world's leading provider of ratings and reviews for B2B service providers, as it recognizes the best companies in the world. The Manifest helps to grow business recognition by conducting independently verified client reviews that are presented in a case study style format. If you're looking to find the best fit for your project or boost company recognition, The Manifest is the platform to check. The Manifest is the gold standard of B2B reviews, which is why we're honored to have maintained a perfect 5.0-star average on The Manifest!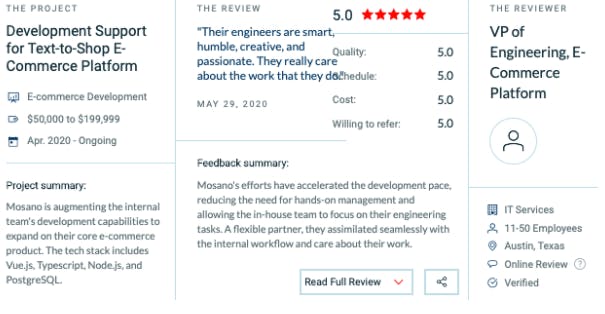 In a recent review, Alexandre Marques, the project lead at W.AI.DI praised the work we did for the pharmaceutical industry! Our work earned praise from end users, especially the user-friendliness! Our communication was also noted, with our ability to solve issues emphasized for special recognition!
"The people on their team make them stand out — they really want to help and are dedicated to the work itself." – Alexandre Marques, Project Lead at W.AI.DI
We're incredibly grateful to Alexandre Marques, small businesses, and all of our satisfied clients! If you're looking to join their ranks, please contact us today!